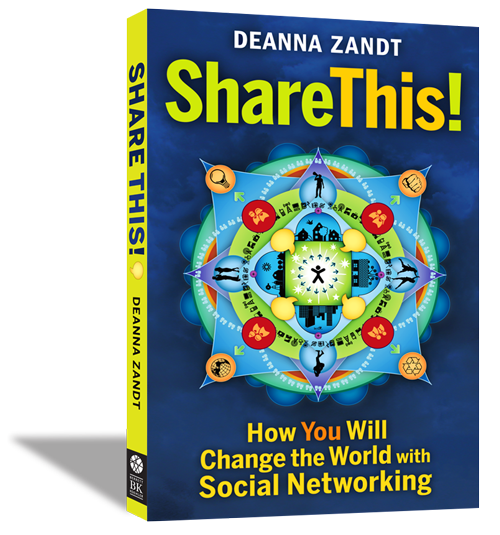 Share This! How You Will Change the World with Social Networking
The times are not just a-changin', they're a-revolutionizin'! As social media becomes increasingly present in our everyday lives, a major democratic cultural shift is underway. Through the power of relationships, sharing of experiences, and organizing online, previously marginalized voices are pouring into and shaping public conversations like never before.
But serious change will not happen on its own. Despite the increasing presence of a diversity of voices and faces, the Internet isn't fulfilling its disruptive potential; more often than not, it's simply replicating and amplifying inequality and segregation. The good news? The fundamental building block common to every social movement is the power of the narrative. Your story… and your willingness to share others' stories with your networks… can mean the difference between progressive change and perpetuating the status quo. We need you here, building and mapping your relationships, sharing your experience and creating pipelines of empathy and trust that will change the world.
This book is a blueprint for understanding why and how this medium of exchange works, and how our personal stories and daily experiences comprise a profoundly political picture that leads to social action and social change. Through a fun and accessible exploration of the intersection of philosophy, psychology, sociology and technology, it looks at how an historical convergence of forces has constructed a platform of immense possibility. Finally, the book offers concrete strategies and advice for both individuals and organizations looking to engage in this digital extension of our humanity. It shows, quite simply, how YOU will change the world.
Amazon Powell's Barnes & Noble * Digital and paperback versions at each site. Also available on Indiebound.
"When Deanna Zandt writes that sharing is daring, she expresses the logic of the age, where a shift from hoarding to sharing can provide incredible social leverage. Think of 'Share This' as a manifesto for social engagement, and as a manual for positive change."

Clay Shirky, author of Here Comes Everybody and Cognitive Surplus; faculty member, ITP at NYU
Chapter One
Title goes here
Welcome to the Future, or, The Birth Of Sharing
Sharing For the Rest of Us
How the Magic Happens
Freedom of Information Act(ion)
How Connectors Feed the Magic Of Sharing
Onward, Young Sharer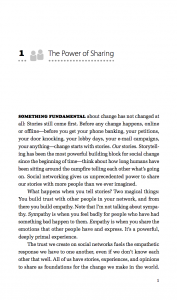 Chapter Two
Title goes here
Why The Aggregation of Influence Is a Bad Thing
A Brief State of the Internet Union
The Dangers of Replicating Bias and Exclusion Online
Won't Mobile Fix Everything?
Change, Not Band-Aids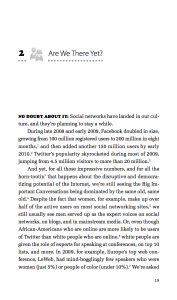 Chapter Four
Title goes here
The Anatomy of Organic Authority
Institutional Authority On The Hot Seat
Size Doesn't Matter. Relationships Do.
Avoiding the Newest Numbers Trap (+ 8 more sections)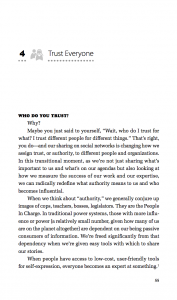 Chapter Five
Title goes here
Free-For-All Organizing, and the Secret Tyrants We All Are
How To Be a Useful Agent of Change
Lions, Tigers & Bears, Oh My(Space)! The Fears People Have
The Monsters Under the Bed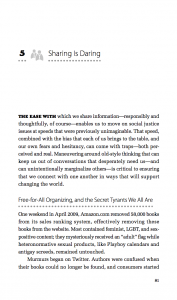 Ready to test the waters? Download a sample.
*

sample contains only PDF version
Download free sample
What people say about Share This!
Tour information (Past)
All the following tour dates are from 2010. For current appearances by Deanna, see deannazandt.com/events.
June 14: Official release day!
June 16, 7pm: Reading, Bluestockings Bookstore
172 Allen St. (corner of Stanton St), New York, NY. F to Second Ave, J to Delancey/Essex
RSVP at the Facebook invite.
June 17, 7pm: Rooftop Tech Talks, Brooklyn, NY. Free beer! Woo! See the Meetup page for info.
June 18, 7-10pm: Launch party: Donnybrook
35 Clinton St (corner of Station St) New York, NY. F or J to Delancey/Essex
Noshy food served; cash bar with lovely drink specials
RSVP at the Facebook invite.
June 24-26: Party & paneling, Non Profit 2.0 UnConference, Washington, DC (details TBD)
July 8, time TBD: Reading, Moon Stone Art Center/Robin's Bookstore. Philadelphia, PA (details TBD)
July 20, 6pm: San Francisco Launch Party, Benders Bar & Grill.
Sponsored by AlterNet.org! Light appetizers will be served.
806 S Van Ness Ave, San Francisco, CA.
RSVP at the Facebook invite or on the Eventbrite page.
July 21, 7pm: Reading, Books Inc (Marina location), San Francisco
July 22-25: Paneling, party and book signing, Netroots Nation, Las Vegas, NV
Panel: Thu, Jul 22, 3pm: So You Wanna Rock on Social Networks
with Baratunde Thurston, Cheryl Contee, Veronica Arreola, and Susan Mernit
RSVP at the Facebook invite
Book signing: Fri, Jul 23, 10am. Location TBD.
Party: Fri, Jul 23, 6:30-8:30pm Masquerade Suites; Room TBD.
Sponsored by AlterNet, Firedoglake and the Women's Media Center.
Featuring Lizz Winstead and co-hosted by Amanda Marcotte
Wine & beer served; 1st 50 attendees get a free AlterNet tshirt
RSVP at the Facebook invite
July 28, 7pm: Reading, Barnes & Noble, Binghamton (Vestal), NY.

2443 Vestal Parkway East, Vestal, NY

After-party thrown by the notorious Gus & Rachael Zandt (aka, My Parents) at Pizzeria Uno (right there in the Town Square Mall)

RSVP at the Facebook invite
Sept 1, 7pm: Talk and book signing, Harvard Book Store. Sponsored by WAM!, Cambridge, MA
1256 Massachusetts Avenue
Cambridge, MA
Map
RSVP at the Facebook invite
Sept 7, 6pm-9pm: Talk/discussion, Philadelphia NetSquared Tuesdays. Philadelphia, PA
Friends Center
1501 Cherry Street
Philadelphia, PA 19102
RSVP on Meetup
RSVP on Facebook
Sept 15, All day. Women Who Tech Teleconference. On the Web: attend from anywhere!
11am: Talk with Tara Hunt: Creating a Culture of Collaboration and Innovation
More information on the conference & registration
Sept 17, 1pm-4pm: Talk and book signing, Duke University. Durham, NC
Room 217 Perkins Library (map: http://maps.duke.edu/building/4)
Registration info coming soon.
Sept 23-25: Panel, Facing Race Conference. Chicago, IL.
McCormick Hyatt Regency
More info and registration for the conference
Sept 28, 2:35pm: Talk, Web 2.0 Expo. New York, NY
The Free-for-All Web and the Secret Tyrants We All Are
More info and registration for the conference
Oct 6-7: Panel, Deutsche Telekom Innovation Day. Berlin, Germany.
(Note: I'll be traveling in Germany Oct 3-14)
Nov 18-19: Personal Democracy Forum Latin America. Santiago, Chile
Talk: The Power of the Internet to Address Issues of Race and Class.